Warm greetings to my mom, all moms and anyone who has a mom. Well I thought I would make this email about mothers and women because if you know me, you know that I really care deeply. I hope that all mothers today are being thought about kindly and all people with mothers are thinking about them kindly.
I found a picture with my mom during Christmas of 1996, my senior year of high school. Little boy hair, maybe its not a good idea to show this. I don't like that my mom has grey hair (gee sorry Mom for pointing that out) in a picture taken almost 15 years ago. My mom is young and pretty forever I say....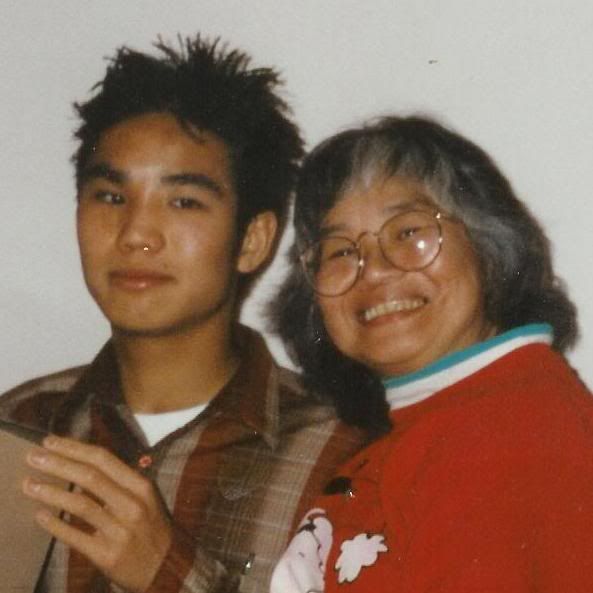 Besides 2 new poems, I felt like sharing some of my older writings from my self-publications I did in early 2000's when I was producing a lot more regular material. I hope you like what I have to say.
---
The Reason I'm So Nice – May 5, 2010
When someone is good to me,
I know they are the reason I'm so nice,
so I will notice and tell them
because I'm not gonna make the same mistakes twice.
Thinking About You Like I Do – May 7, 2010
When I'm looking for something to beat loneliness
your company is undefeated.
So I hope you have someone who can treat you
the best you can be treated.
Even if you don't feel that way from me
and you probably do not.
Still if you want to hear from someone thinking about you
I am someone who never forgot.
There is from Thinking Of You

There - 2000?

Let me remind you that you're the most beautiful woman since ever

because even if you forget, just know I'll always remember.
Untitled poem about being sweet is from A Flower Unfolds

(untitled) - 2002?

Being sweet to a woman
means expecting nothing in return from she.

The company of a real woman
is what means the most to me.
---
Being Thought About and True Friendship
Okay, kind of off subject maybe but I want to share some bits about what's most important to me, true lasting friendship and thinking about deers. Well not just thinking about deers, but specifically letting them know they are being thought about which is a big deal to me.
Lonesome is from Thinking Of You

Lonesome - 2000?

So that I won't be alone,

I ask that you think of me.

When you are not around,

your thoughts will keep me company.
Greatest is from Thinking Of You

Greatest - 2000?

I know I'm not the greatest,

but listen to what I say.

I'll always think of you

to make you feel that way.
Untitled poem about being near is from I Enjoy The company Of You Especially

(untitled) - 2000?

There may be times when we are near,

still your thoughts of me may part,

but even if I never see you again

just know you'll always be near my heart.
Best is from The Most Important Thing In The World

Best - 2000?

You are the thought that never ends

and the reason I learned to love.

I hope that we will always be friends

because that is what I'm thinking of.