Hey to all my lovelies!
Well, something I wrote back in 2000 or 2001 (before I used to date my artwork) really stuck in my head so I had to dig it out. A ballad titled "The Secret of My Tears" and its just a classic example of my past artwork. I'm a bittersweet chocolate candy bar I am I am.
As a side note, my good friend John Holbrook is running a marathon today at Newport in Oregon. He's been preparing and he is a good man so I'll be thinking the best of him today.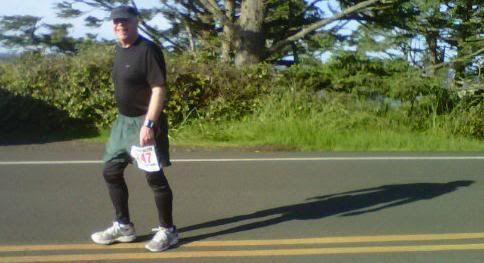 So I am doing better and better. Trying to check in on my happiness after years of neglect. Starting to color in the emotions that have faded from disappointments in my heart.
And with that here you go!!
---
As Smooth as a Gravel Road – May 31, 2010
I often have this troubling fear
that I may come across as insincere
when my affection is sometimes metaphorical
I will speak poetic and rhetorical.
Maybe you think I'm good but not true.
I won't say anything if I don't believe it to you.
Remembering words that got the best reaction,
I won't say anything to pretend attraction.
If I gave a compliment to someone else I'll keep that in a jar.
The things I say to you are as original as you are.
If you think my artwork is self indulgent and crappy,
the truth is that I do it because its easier
than for me to just say "you make me happy".
Clearing Out The Bulk In My Mind – June 1, 2010
I don't want a life of constant changes
although I will go thru some rearranges
to shift my priorities from the old to the new.
Close up past feelings no longer are true.
I'm clearing out the excess bulk in my mind
so I'll have space for better things I'll find
and be able to commit to a deeper ambition
as joys from the past now feel dated and brief
but starting this process of transition
has filled me with a sense of relief.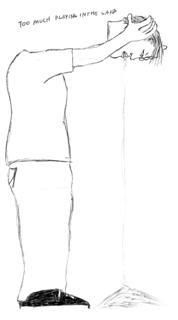 Drawing is from 1994?
Cream of the Dirt - January 22, 2010
I'm the cream of the dirt.
I rise thru the hurt.
Someday I will sparkle
like the lurex in my favorite shirt
and find someone who makes
me feel as sweet as dessert....
But this isolation is killing me
and the desolation is chilling me.
I never felt any colder
than leaning on your shoulder.
Thinking of you makes me go brrr....
Why did you have to change temperature?
The Last Thing I Expected – 2009?
I think of my close friends I adored,
they came to me, I held them close,
and then I was ignored.
I'm told all the best things but then I get neglected
when they leave without even a goodbye
and its the last thing I ever expected.
The Person You Try To Be – 2000?
I wear my sunglasses but I can see
beyond the person you're trying to be.
You hide from your own intentions and insensitivity.
My trust in you is the trust you have in me.
I respect the person you really are
when that person and the person you try to be are not so far,
but all you do is emotionally indulge in me
and that will just make you even more hungry.
The Secret Of My Tears - 2000?

When you see your light reflect in my eyes,
I can bring your awareness to all time highs,
where your reservations are replaced with continual sighs
and each time you see me is a pleasant surprise,
but oh... the truth that you didn't know
will bring about your own demise
if you don't understand how hard a person like me tries.
A regular person's human nature you never quite came to realize.
The thoughts you had for me, you now despise
and you can hate me but I still won't sympathize
because I'm not the one who told you any lies
when your expectations shatter and your heart just cries
you'll see I am just a product of leftover residue that drys.
---
Rose City Round Up
I thought I would take a moment to mention something very fun coming to Portland in TWO weeks. Rose City Round Up! Its a 2 day custom car show located at Jubitz in North Portland. Classic hot rods, vendors, and music by rockabilly and Americana twang bands.
Reasons to go?
It will be more fun than chewing on glass!!
I will be there and love to see you!!
It is all ages and FREE!! (concerts each night are $10/night or $15 for both days and 21+ in the bar)